Sculpting Interdisciplinary Career Paths at Monmouth University    
"You're always going to have the people who are going to say, 'Oh, what are you gonna do with a fine arts degree?'"
Lauren Haug is a third-year student at Monmouth University pursuing her Bachelor of Fine Arts in Design, and she's all-too familiar with the reactions that come with being a student interested in following a passion for art into higher education.
"But when it comes to doing this interdisciplinary stuff, you get to open up so many more avenues that you never thought you'd be able to go into."
It was at Monmouth that she fell under the tutelage of Kimberly Callas, an Assistant Professor teaching drawing, sculpture, and 3D design at the university, and that Haug's career visions underwent a stark trajectory change.
Callas is an academically-trained figurative sculptor and social practice artist. Her craft is a very old tradition – she sculpts in clay and casts her work in bronze or concrete. And yet she's been on the forefront of adopting new technology and finding ways to use it to better her workflow and incorporate it into her teachings.
Her students are reaping the benefits of this as much as she is – graduating with a set of highly-sought after and directly-applicable experience: from CAD and 3D printing to creativity and adaptability.
Fostering Innovation through Interdisciplinary Projects
Callas's curriculum has been largely influenced by her early experiences working at a makerspace.
"There was a student there who was in engineering, and then there was another student who was a nursing student, and I was there as an artist working," she recounts. "To me it was really fascinating to work between the fields, and so I wanted that opportunity for my students."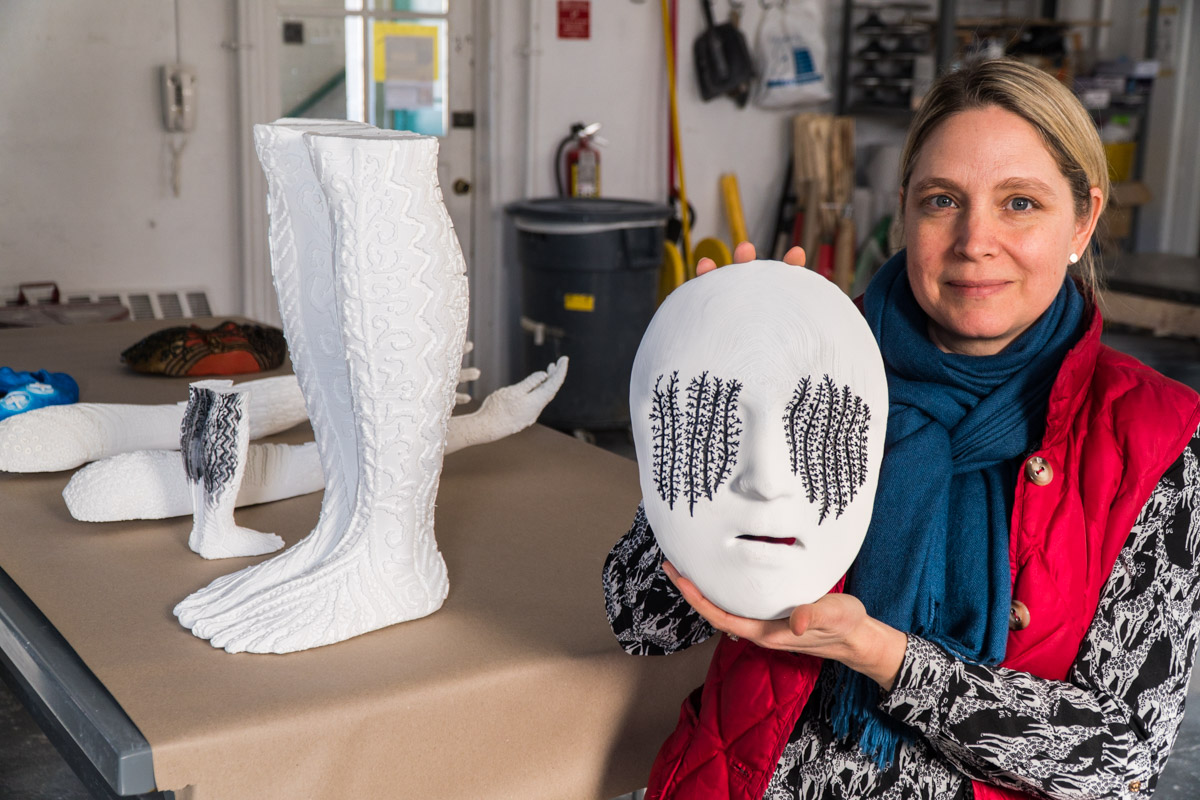 The interdisciplinary experience stuck with her and has impacted her teachings to this day. "It's one of the things I really like about 3D printing and emerging technologies, that we can all work together in the space and maybe through touching shoulders we come up with better ideas or innovative ideas," she says. "I feel like it really does foster innovation; in the arts, being exposed to the other fields, but also the other fields being exposed to the arts."
Through cross-department projects with her students, Callas encourages the weaving of an artist's touch into other fields, and vice-versa
By Morgan Hamel
Read more here: https://re3d.org/monmouth-university/
Sculpting Interdisciplinary Career Paths at Monmouth University's Art Department – re:3D | Life-Sized Affordable 3D Printing